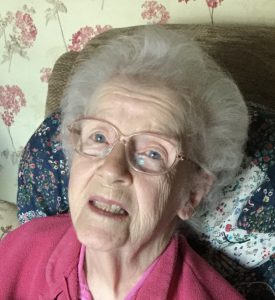 McDermott, Nora (nee Gilmore), 17th July 2018, peacefully at her home, 31 Millfield, Ballymena.
Beloved wife of the late Francis (Frank), R.I.P. loving mother of Tony, Deirdre, Dolores, Patrick, Ailesh, Frances and the late Cormac.
Lovingly remembered by her sorrowing family and family circle.
Her remains will be removed from the home of her daughter and son-in-law, Ailesh and Liam Lindsay, 6 Market Road, Ballymena, on Friday 20th inst. at 9.40am to All Saints Church for funeral after 10am requiem mass interment afterwards Ballymena Cemetery.
"Lady Queen of Peace Pray For Her"
Sadly missed but will never be forgotten, devoted Mum to Tony and Daughter-In-Law Bernie. A Treasured Granny to Kerry, Roisin and Ciara. You are now at rest and bathing in eternal light. Our little Angel Eamonn is waiting to embrace his Granny.
For a Dearly Beloved Mother, Grandmother and Great Grandmother who will be sadly missed. In peace at last. From your eldest Daughter Deirdre, Son-In-Law Peter, Grandchildren Damian, Jason, Ciara, Peter (Jnr) and Great Grandchildren Samantha, Victoria, Georgia Scarlett, Samuel, Matilda and Daughters-In-Law Maria and Fiona.
Loving Mother of Daughter Dolores, Son-In-Law Sean, Grandchildren Tony, Sean, Dermott and Partner Rebecca, Catrina and Husband David and Great Grandson Alarik. Sadly missed. "Our Lady Queen of Peace Pray For Her".
Loving Mother of Patrick McDermott and Grandson Terry, Wife Penny and Grandchildren Henry and Harriet. "Our Lady Queen of Peace Pray For Her".
Loving Mother of Daughter Ailesh, Son-In-Law Liam, Grandchildren Sinéad and Husband Stanley, Nuala and Husband John, Eirnín, Conán, Aoife, Caolán, Fiachra and Partner Linzi, Oisín, Tiarnán, Lomán, Darerca, Bláthnaid and DérGréine and Great Grandchildren Cormac, Aislinn, Oskar, Jack, Francis and Eilionóir.
Loving Mother of Devoted Daughter Frances Theresa McDermott. Gone from my life but never from my heart. "Our Lady Queen of Peace Pray For Her".